Electric cars that zip by have always been more sci-fi than reality, thanks to pop culture. But in fact, the earliest cars were running on electricity long before the energy and automobile industry decided to convert Detroit into a gas guzzling machine based on the internal combustion engine. And precisely because of that, electric cars are making a comeback. With fuel prices soaring, and fossil fuel itself adding ever more to greenhouses gases that cause global warming, the world is betting on solutions such as alternative clean fuels, and zero or low carbon emitting cars powered by electricity.

As Detroit is to the American automobile industry, Japan is fast becoming to the world. And their fleet of hybrid cars, those that use an alternative clean energy only or in combination with gas is helping Japan's position as a global leader in the auto industry big time. Last summer, while Toyota took the lead from Ford and became the second most selling brand of automobiles in America just after GM, Honda comfortably outsold DaimlerChrysler.
Toyota and Honda, both Japanese companies, are also the only mass producers of hybrid vehicles and enjoy steady success in that market. By 2003, Honda had sold over more than 37,000 units while Mazda expected to sell at 7,000 units of its 4WD Demio series. And according to a research by J.D Power, 350,000 units of hybrids will be sold in the US alone by 2008. You can rest assure that the Japanese brand of EVs will make a significant chunk of that market. It helps to get the word out when celebrities like George Clooney and Leonardo DiCaprio are already hybrid drivers.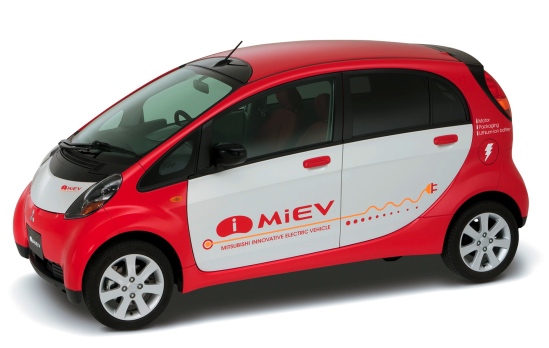 Japanese automakers Mitsubishi too is hoping to re-brand its market imagine by launching a series of EVs in Japan by 2010. Subaru too is teaming up with the Tokyo Power Company to launch a series of electric vehicles, based on Subaru's R1e minicars that will challenge Toyotas hybrids when it is launched.
While Japan continues to work on mass market models of EVs, engineer and designers there are also working on ever more impressive line of sporty and luxury models. The Eliica electric car, still only a prototype, can climb up to a speed of about 100mph in 7 seconds and reach a top speed of 400kmph. A brain child of Prof. Hiroshi Shimizu, Keio University, the car was produced with the help of a team of students.
Did we mention it has 8 wheels, four in the front and four in the back? A full charge from a normal outlet takes about 10 hours and that will keep you going for 200 miles. The point was to show the potential of EVs, and it's a point well taken. The California born Tesla is the only Super EV coming out anytime soon but it's a luxury sports car. And Detroit is still grumbling. But you can count on Japan's EV industry to take the world on a clean, eco-friendly spin.
Article Source: http://EzineArticles.com/?expert=George_Christodoulou