The Lincoln Town car is the most used limousine and chauffeured car in America. It is quite affordable when compared to its European counterparts at a base price of nearly $50,000 which goes up by $100,000 for its ballistic protection feature. Thus with the palatial dimensions, smooth and silky ride and a massive trunk, the Lincoln Town car presents the most ideal shuttle for aristocrats and VIPs that need a lift.

The current model that is available is among the few cars that can seat six passengers. Equipped with wide rear and front bench seats, occupants in this luxurious sedan simply have lots of space to handle. Both the current standard and long wheel base models are equipped with the V8 engine. There are two trim level models that are on offer besides these models. These are the Signature model and the Signature Limited model.
The Signature model is the base model whereas the Signature Limited model has some additional features like an upgraded sound system, a memory system that links the seats, mirrors and pedals that can be preset as per the preference of the occupants and a power operated trunk. True to be called a limousine, the long wheel-base Town car Signature L model is as closest to a limousine as a sedan can get. This model is longer by six inches when compared to other styles, have more room, separate audio and climate controls and heated rear bench seat.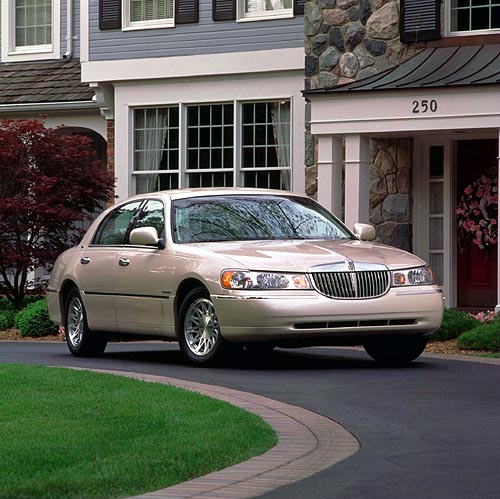 The newer models of the Lincoln Town car are appreciated for its stronger frame, upgraded brakes and sharpened steering features. The abundant storage areas, roomier interior space, large trunk and a magic carpet ride quality are the other features that have earned the current Lincoln Town car accolades from critics and users. Touted as an affordable luxury car, it holds a special place in the luxury sedans segment. Giving competition to its competitors, the Lincoln Town car scores over them due to its six occupancy seating arrangement, large interior spaciousness and a larger trunk space where at least four full sized golf bags can fit, when compared to other sedans.
Though a little slow during acceleration part, this car is not for those that need speed but it is for those that require privacy of space without the fear of the driver overhearing important conversations or for those that have believed that big and comfortable chauffeur driven cars are a reward for a job done well. For them the big and comfortable, rear wheel base, best selling American luxury car is the perfect answer to showcase their wealth and prosperity.
Sold by Ford under its Lincoln brand, this a full size luxury sedan having a rear wheel drive. With large exterior and interior dimensions this distinguished car features a powerful V8 engine. The name along with the,Lincoln nameplate spells luxury and comfort and also holds the distinction of being the most established and the best selling of American luxury cars. Since its inception in the year 1969-70s, the Lincoln Town car has taken many forms but the basic concept remains the same; that to provide complete luxury and space to the six occupants no matter where in the car they are sitting.
Article Source: http://EzineArticles.com/?expert=Deevan_Aw